I though it was about time I wrote a post for my most popular crochet pattern download, the Flower Power Crown. 
I first started creating this beauty some time ago now. I had the itch to make something wearable and pretty and what's prettier than flowers?
There was alot of frogging, cursing and sighing involved trying to make the leaves and flowers just right but I got there in the end. I'm a bit of a perfectionist so I think each flower was made in about ten different ways before settling on the most user friendly version!
I knew I wanted my beautifully amazing niece to model it. It suits her rapunzel hair perfectly 🌼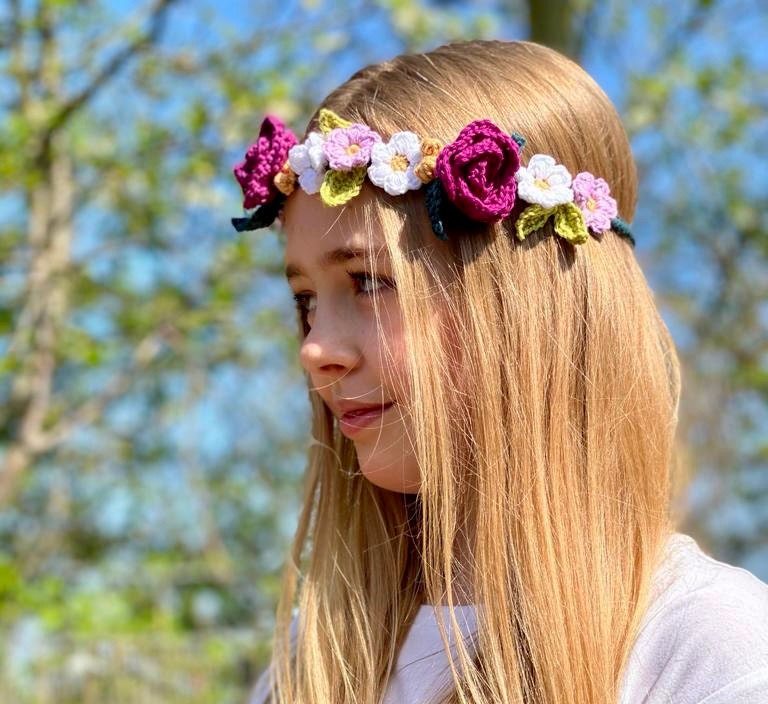 I've made it available on several platforms including.....
🔆 TheWoollyKid
https://www.thewoollykidcrochet.com/listing/980539908/fast-easy-flower-crown-tutorial-crochet
🔆 Etsy
https://www.etsy.com/uk/listing/980539908/fast-easy-flower-crown-tutorial-crochet?ref=shop_home_active_1
🔆 Ravelry
https://www.ravelry.com/patterns/library/flower-power-crown
🔆 Ribblr
https://ribblr.com/pattern/flower-power-crown-crochet
🔆 Lovecrafts
https://www.lovecrafts.com/en-gb/p/flower-power-crown-crochet-pattern-by-the-woolly-kid
🔆 or add to your Pinterest board and follow me by searching for The Woolly Kid.
I'm currently working on two new flower crown patterns which I'll be uploading very soon! There's a Rainbow Rose Crown and a Sunflower & Lavender crown coming your way.
Please feel free to send me a message if you have any questions prior to purchasing. I'll be happy to help.
I'd love to see your finished designs so please tag me @TheWoollyKid and a review on the site purchased from would be really appreciated 😊
You are welcome to sell your finished makes but please credit me for the design.
Lots of crochet love 💗