My nephews been pretty anxious lately at bedtime so my sister asked me to make him his own worry worm. It's been a really confusing and difficult time for the little ones over the last year or so and this is a great idea to help them. Mental health is a subject very close to my heart and something that children should not be struggling with alone. So big thanks to whoever came up with this cute idea 💡 
I've made up this quick little pattern with embroidered eyes and a cute little poem to go with it. I hope it helps your little ones!
I used
Ricorumi DK acrylic yarn in Neon Green
3.5mm hook
White and black DK cotton for the embroidered eyes
US terminology 
Abbreviations
MC - Magic circle
Ch - Chain
HDC - Half double crochet 
SS - Slip stitch
St - Stitch
Special stitches - 
Invisible join – On your last st cut the yarn and pull the tail all the way through the top of the last st made. Thread the tail on to a yarn needle. In the top of the st that is second from the join, insert the needle under both of the top loops. Now insert your needle in to the top of the join st (I insert this down into the stitch between the top loops and also behind the back of the st). Weave in the end.
HDC increase - 2 half double crochet in the same stitch. Written as (2HDC).
Worm
Round 1: MC, Ch 2, HDC 8 in the circle, join to first HDC with a SS (8)
Round 2: Ch 2, (2HDC) in each st around (16), join
Ch 32, (2HDC) in third st from the hook and in each st to the end, skip 2 stitches back on the circle then join to the next with SS.
FO using the invisible join
Embroider the eyes using the black and white thread/yarn. 
I then made another circle to place as the back of the worms head to cover the back of the embroidery. If you have used stick on eyes you won't need this part but if you do just repeat rounds 1 and 2 and then FO. Sew the circle to the back of the worms head. FO using the invisible join and weave in the ends.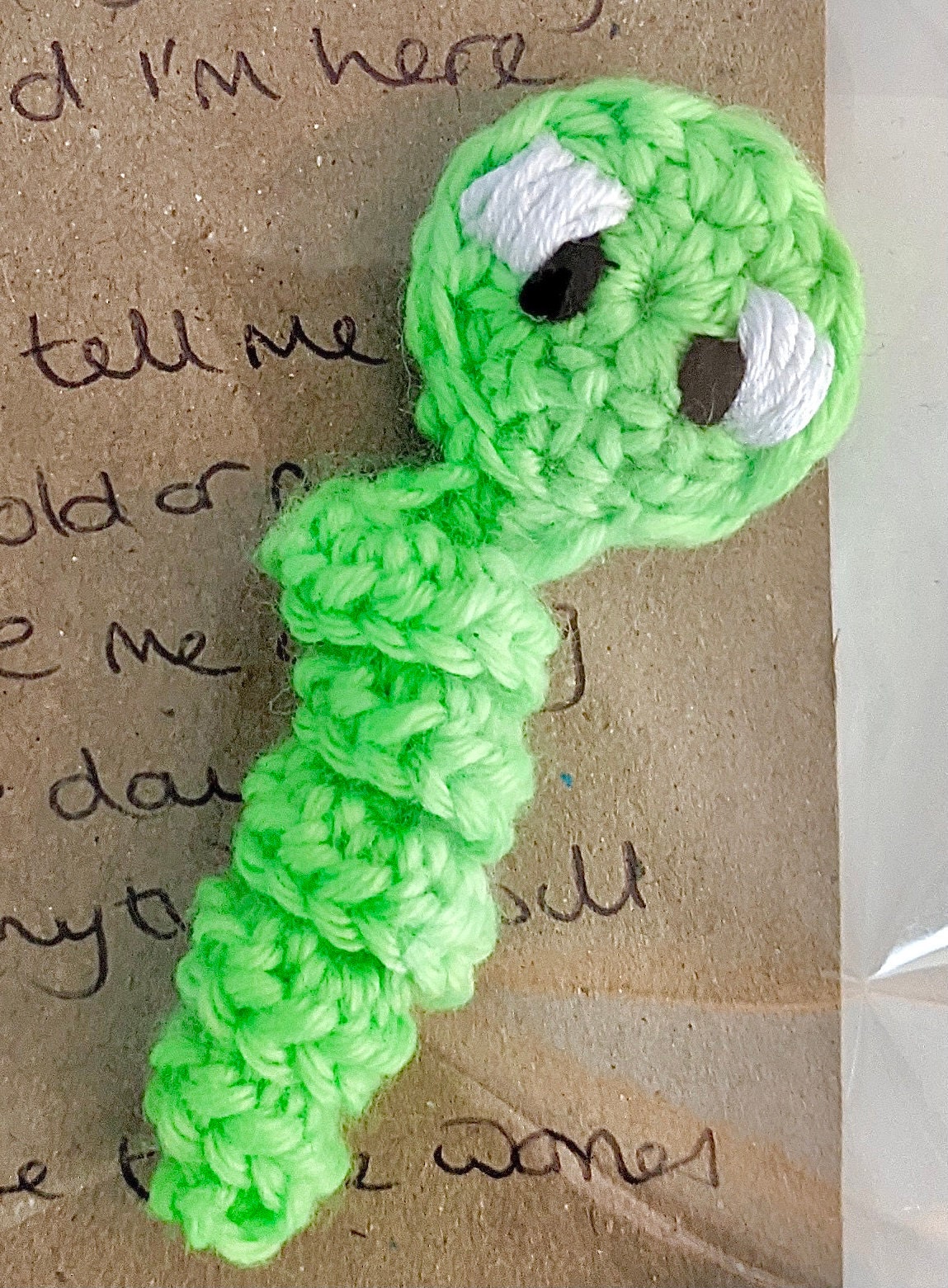 Now that your worm is complete you just need to write out this little poem to go with it and its ready to ease some worries!
''Hello I'm your worry worm and I'm here for you,
you can tell me your worries old or new, 
then give me a hug night or day, 
and everything will be ok, 
I'll make those worries disappear, 
so that you will now have nothing to fear''
Happy hooking!
The Woolly Kid 
x