Here's a free pattern for mistletoe which you can attach to a quick banner from my 'Get Set Alphabet' pattern. I just switched out the colours for a traditional Christmas feel and replaced one of the tassels with the hanging mistletoe.
Lettered bunting available on:
My website
Etsy
Ravelry
Lovecrafts
I've written up the pattern for the mistletoe below.
I used the same hook size as called for in the pattern, 3.5mm and an acrylic wool for all parts.
US terminology 
Ch - Chain
SC - Single crochet 
SS - Slip stitch
HDC - Half double crochet 
DC - Double crochet 
Rep - Repeat
FO - Fasten off
MC - Magic Circle
St - Stitch
BLO - Back loop only
yoh - Yarn over hook
** - repeat as instructed the stitches between these asterisks 
Puff st – (Yoh insert hook in st, yoh and pull up a loop) Rep another 4 times, yoh and pull through all loops, Ch 1 to secure.
Mistletoe 
Stem and leaves 
The following rounds are made using green:
(Leave a long tail at beginning to attach to banner)
Round 1: MC, Ch 1, SC 6 in the circle, join to first SC with a SS 
Round 2: Ch 1, BLO, SC 6, do not join 
Rounds 3-17: SC 6 
Join to first SC with SS
Round 18: (Shorter leaves) Ch 15, *DC in 4th Ch from the hook, DC 2, HDC 3, SC, SS* Ch 10, Rep from * to * with the SS being in same st as first SS, SS 4 up Ch towards stem, SS in same st as original SS on stem. (Longer leaves) Ch 20, *DC in 4th Ch from the hook, DC 2, HDC 3, SC, SS* Ch 10, Rep from * to * with the SS in same st as first SS, SS 9 up Ch, SS in next st on stem. 
Rep all of these instructions on Round 18 5 more times ending with SS in first SC on stem again.
FO
Weave in the last end, leaving the original tail end.
Berries
Make 12 
The following is made using white: 
*Ch 3, puff st in the third Ch from the hook, SS to same ch that puff st was made in* Rep from * to *. 
FO leaving a long tail
I blocked the leaves for a neater finish.
Attach the berries to the middle of each pair of leaves. I did this by sewing both ends of the berries through the leaf, knotting at the back and weaving in the ends towards the stem.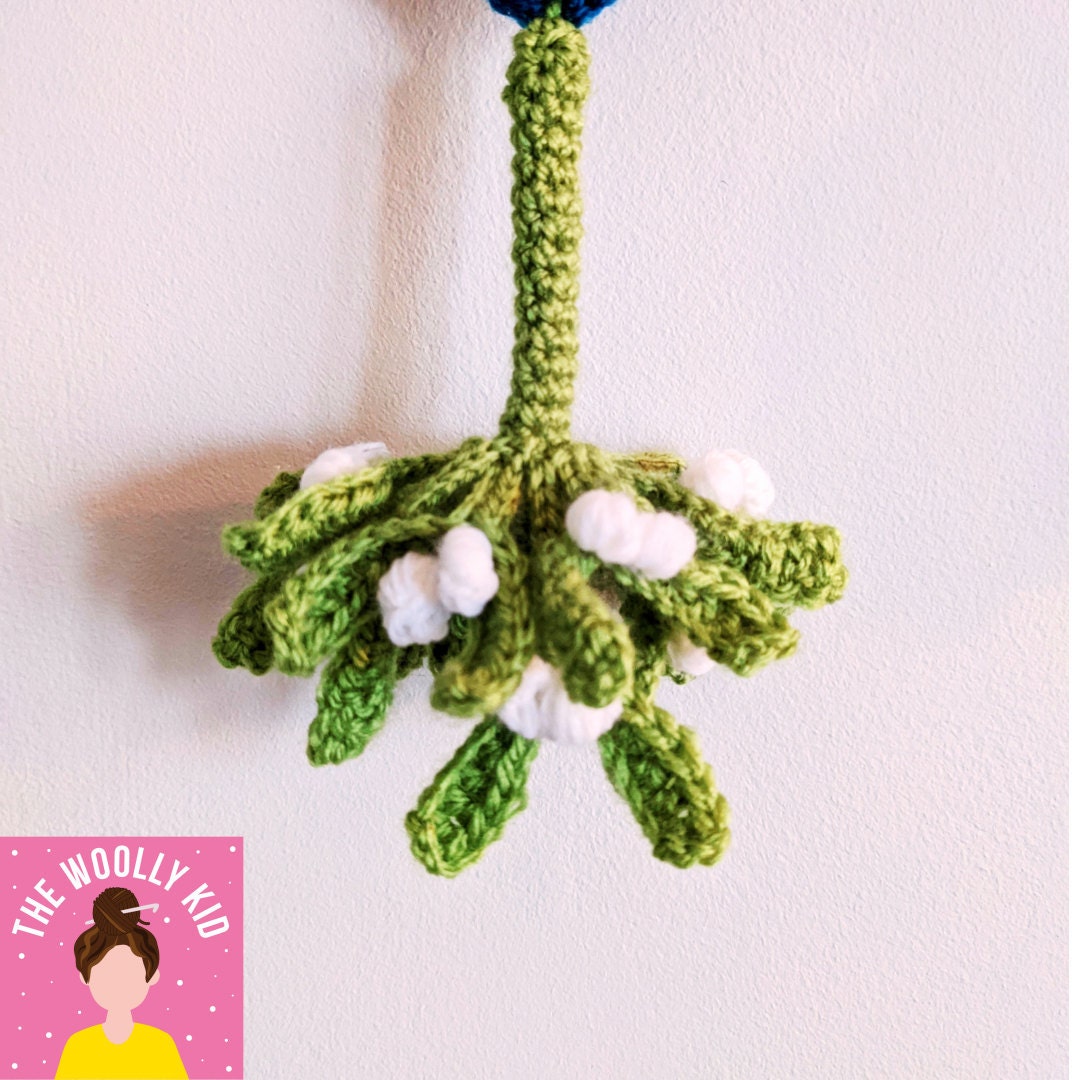 Hang up for a festive feel to the holidays!
Happy hooking 🎄
Tag me in your makes so I can see your beautiful work @thewoollykid ✏️